Mix sugar, butter and vanilla. Then stir in flour and salt until dough holds. On an ungreased cookie sheet, spread groups of 3-4 pecan-brazil nuts. Place in the center of each group, a single white morsel.
Take dough by teaspoonfuls and shape around caramel pieces; press firmly onto the center of each group of nuts. Bake until set but not brown, about 12 - 15 min. Cool on glass serving dish.
THE WHITE RABBIT


Ingredients




4 ounces cream cheese, room temperature
Confectioners' sugar
4 small round egg bagels
1 1/2 pint raspberries, or other berry


Directions




Split rolls into three layers, horizontally. Stir together cream cheese and 1 to 2 tablespoons sugar, or more to taste, in a small bowl. Spread bottom half of each roll with 2 tablespoons sweetened cream cheese, then spread the middle layer; divide berries among sandwich layers. Use a fine sieve to lightly dust berries with more sugar, and stack all the layers. Replace tops of each roll.
Makes 4.
THE CADUCEUS
Zion hovercraft
Captain: Ballard - First Mate: Malachi
Operator: unknown - Crew: Bane

At the Captains' Crisis Meeting, Ballard offered to help Morpheus and remain behind in the Matrix to wait for contact from the Oracle. The Nebuchadnezzar had to return to Zion [maintenance] as part of the massive recall of all hovercraft to defend the city. Ballard claimed he remained so he could see what Lock would do to Morpheus when he found out. Ballard was eventually contacted and challenged to a fight by Seraph. Seraph allowed him to meet with The Oracle to retrieve her message. The crew of the Caduceus eventually made it back to Zion, but during their escape Ballard's crewman Bane was infected by Smith. In Zion, Ballard gave the message to Neo: The Oracle wanted to see Neo and tell him about The Keymaker.


SMOKED SALMON and AVOCADO with LEMON CAPER BUTTER on PUMPERNICKEL BREAD


Ingredients
5 tablespoons unsalted butter, softened
1 tablespoon fresh lemon juice
1 tablespoon drained bottled capers
8 slices of pumpernickel bread
1/2 pound thinly sliced smoked salmon
1 small red onion, sliced thin
1 avocado (preferably California), pitted, peeled, cut into 12 wedges,
and sprinkled with the juice of 1/2 lemon
1 cup alfalfa sprouts



In a small bowl cream together the butter, the lemon juice, the capers, and salt and pepper to taste and spread the lemon caper butter on one side of each slice of bread. Layer half the bread slices with the salmon, the onion, the avocado, and the sprouts and top the sandwiches with the remaining bread slices, pressing them firmly.
Makes 4 sandwiches.

Thanks to Gourmet, June 1990
Hawthorne's short story: The Magic Pitcher
Mercury and the Caduceus in the palm here


THE HAMMER
Mjolner aka Hammer [Mark XIV No. 62 Made in the USA Year 2111]
Captain: Roland - First Mate: Colt
Operator: AK - Other Crew: Mauser, Maggie

SUPER STAR LUNCH


Ingredients
2 whole-wheat hero rolls
Mustard and Mayonnaise
4 ounces thinly sliced turkey
4 ounces thinly sliced baked ham
4 ounces sliced Swiss cheese
1/2 cup sliced bread-and-butter pickles
1/2 head butterhead lettuce



Split rolls in half horizontally. Spread bottom half of each with mustard and the top with mayonnaise. Layer turkey, ham, and cheese on bottom halves of rolls; top with pickles and lettuce. Return tops of rolls. Cut sandwiches into smaller pieces, one for each of the candidates in the Oracle's gathering room, watching white rabbits on TV.


THE LOGOS
Logos [Mark XIV No. 14 Made in the USA Year 2101]
Captain: Niobe - First Mate: Ghost
Operator: Sparks - Other Crew: None

LOGOS EMP


Ingredients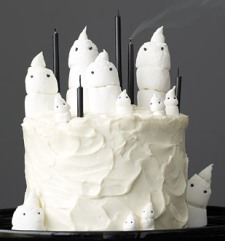 Serves 24 Volts rt., Ghost Cake
[Meat should be sliced knife-edge thin]
2 heads red lettuce, shredded
Virgin olive oil, to taste
Red-wine vinegar, to taste
Coarse salt and freshly ground black pepper, to taste
Dried oregano, to taste
1 three-foot loaf Italian bread
1 cup mayonnaise
3/4 pound oven-roasted turkey, thinly sliced
3/4 pound baked ham, thinly sliced
3/4 pound Genoa salami, thinly sliced
1/2 pound pastrami, thinly sliced
3/4 pound Swiss or Jack cheese, thinly sliced
or spread freshly grated Parmesan butter*
Sun-ripened tomatoes, thinly sliced
24 toothpicks


1. Put shredded lettuce in a bowl, and toss lightly with oil and vinegar; season with salt, pepper, and oregano.
2. Using a sharp, serrated knife, cut bread in half lengthwise. Remove soft center from the bread. Using a spatula, spread mayonnaise evenly over top of loaf.
3. On bottom bread half, spread mayo or Parmesan butter; evenly layer meats and remaining ingredients. Top with other half of the bread, secure with toothpicks, and cut into triangles.
Some suggested garnishes: Capers, carrot and celery stalks, pickle spears, salted nuts, stuffed or ripe olives.
* Parmesan butter: To cream butter, place one cup of butter in a warm bowl, mash, beat and whisk it until it is soft. Gradually add one-half cup of cream and sprinkle the Parmesan cheese on top. Slowly fold grated cheese into the mixture.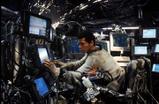 THE NEBUCHADNEZZAR II
[Mark III No. 11 Made in the USA Year 2069]
Captain: Morpheus - First Mate: Trinity
Operator: Link, Tank - Other Crew: Neo, Dozer, Switch, Apoc, Mouse, Cypher


BRING IT TO THE TABLE


Ingredients
Canadian bacon, medium well done English muffin, untoasted
Apple rings, fresh sliced English mustard
Swiss cheese, cut in triangle shape

Directions:

Add mustard to one side of the English muffin. Place a thick slice of hot Canadian bacon and a fresh apple ring on the other side. Then cut a thin slice of Swiss cheese into two triangles, arrange on top of both muffin halves and broil.

English Mustard
[Martha Stewart]

Ingredients

1 Cup brown mustard seeds
1/4 Cup yellow mustard seeds 1 tsp sugar
1 Cup dark beer 1 tsp salt
1 1/4 Cups white-wine vinegar 1 tsp ground allspice
1 Cup mustard powder, 1/4 tsp ground turmeric
combined with 1 Cup water 1/4 tsp ground mace
[let sit 20 minutes]


Directions

1. In a non-reactive container, combine mustard seeds with beer and vinegar. Let sit 48 hours. 2. Transfer to food processor. Add remaining ingredients, process 4 - 6 minutes, until seeds become creamy. Refrig a week in an airtight container.





THE OSIRIS
[Mark VI No. 16 Made in the USA Year 2079]
Captain: Thadeus - First Mate: Jue
Other Crew: Robbie


THE SURVIVOR


Ingredients
1 package of round Pita Bread
4 packages of Cream Cheese
1 1/2 Cup Golden Raisins
Small Honey jar

Optional:
Dried Apricots [cut in strips]
Dried Cherries [sprinkle on top]

Directions:

In a large mixing bowl, whip together cream cheese, 1/2 cup golden raisins, and 2 tablespoons honey until smooth. Gradually add more raisins and honey until you reach the desired taste. Store in refrigerator until guests arrive.

Open Pita rounds. Spread cream cheese mixture on one side. If desired, sprinkle top of cream cheese with dried apricots slices or dried cherries.


THE VIGILANT

[Mark XIII No. 32 Made in the USA Year 2106]
Captain: Soren - First Mate: Vector
Operator: Jax - Other Crew: Axel, Binary

REAL WORLD HEAVEN


Ingredients
3 12 Inch Loafs French Bread, Halved
1/2 Cup mayonnaise
1/4 Cup Brown Mustard or Honey Mustard
1 head Lettuce
1 Tomato, Sliced
Eggplant Slice [or 2, depending on size] fried in olive oil
Monterey Jack or Parmesan grated
Sliced Swiss Cheese
1 Orange Bell Pepper, cut in thin strips [pan fry strips in olive oil]
2 Medium Onions, Sliced
Tooth Picks



Cooking Directions:

In a small mixing bowl combine the mayo with the mustard and mix well. When assembling these subs you want to lather both side of your French bread with a little spread. Now assemble the sandwich by layering the bottom bread, shredded lettuce, tomato, eggplant, Cheeses, strips of pepper, and finally top with onions. Cut in half and secure with tooth pick.

Hovercraft serve as the defense force for the city of Zion. List of Hovercraft in The Matrix
BACK Palm - Thumb and Jupiter/Character
BACK Shrmx Menu


You play a dangerous game. Change always is.

ALL NIGHT MATRIX MARATHON



Ingredients

2 six-ounce fillets of Channel Sole
Shrmx, cleaned and sliced
2 Tablespoons pine nuts
2 Tablespoons unsalted butter
Fresh pressed garlic clove, optional
One cup rice flour
Juice of one lemon
Sliced cilantro or chives
Two tablespoons white wine




Directions

Dip Channel Sole in flour with a drop of lemon, covering both sides of each fillet.
In a large, non-stick skillet, sauté shrmx, pine nuts and garlic in a tablespoon of butter or oil. Remove from skillet and set aside. Shake any excess flour off the Channel Sole.
Add tablespoon butter to skillet, heat on medium flame, and add Sole. Cook one minute and sprinkle with sliced cilantro or chives, and white wine. Turn Sole fillets over, then cook about one minute. Sprinkle with cilantro or chives, white wine, and the shrmx combo. Cover pan until ready to serve.
Then heat quickly and serve with lemon.

Neo's Easy Cheesy Noodles

Yield: 4 servings

Ingredients

· 8 cups water
· 3 cups bowtie pasta, uncooked
· 4 oz. canned yams, drained
· 3 oz. ranch salad dressing
· 1/4 cup skim milk
· 1/4 oz. chopped fresh basil leaves, or 2 tsp dried basil
· 1/2 cup green onions, chopped
· 1/2 cup tomato, chopped
· 1/2 cup honey-roasted peanuts
· 3 oz. roast turkey, cubed
· 4 oz. crumbled blue cheese

Method:

Bring 8 cups water to a boil and add pasta. Cook for 15 minutes or until al dente.
Prepare dressing by combining yams, ranch dressing, milk and basil. Puree in a food processor until smooth. Transfer to a mixing bowl and set aside.

Drain and rinse pasta with cold water until cooled. Add pasta along with onions, tomato, peanuts, turkey and cheese to bowl of dressing.
Toss and serve or refrigerate until ready to serve.
Serves 4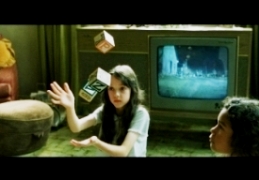 THE MATRIX - Who Said It?

1) What is the Matrix?
2) I imagine that right now, you're feeling a bit like Alice. Hmm? Tumbling down the rabbit hole?
3) If I had to choose between that and the Matrix, I'd choose the Matrix.
4) Hallelujah. You're my savior, man. My own personal Jesus Christ.
5) So what do you need? Besides a miracle.
6) You believe you are special, that somehow the rules do not apply to you. Obviously, you are mistaken.
7) Whoa. Déjà vu.
8) You're cuter than I thought. I can see why she likes you.
9) How much like it? Was it the same cat?
10) Do you know what it really reminds me of? Tasty Wheat. Did you ever eat Tasty Wheat?
11) Were you listening to me, Neo? Or were you looking at the woman in the red dress?
12) I used to eat there. Really good noodles.
13) But... you already know what I'm going to tell you.
14) By the way, if you have something terribly important to say to Switch, I'd suggest you say it now.
15) There is no spoon.
16) Mr. Wizard. Get me the hell out of here.
17) If real is what you can feel, smell, taste and see, then 'real' is simply electrical signals interpreted by your brain.
18) No one needs to tell you you are in love, you just know it, through and through.
19) That is the sound of inevitability... It is the sound of your death.
20) Yes. I've been looking for you, Neo. I don't know if you're ready to see what I want to show you, but unfortunately, you and I have run out of time.


THE MATRIX RELOADED - Who Said It?

1) You always told me to stay off the freeway.
2) Dammit, Morpheus. Not everyone believes what you believe.
3) You have the sight now, Neo. You are looking at the world without time.
4) We are getting aggravated.
5) Tonight let us make them remember: This is ZION, and we ARE NOT AFRAID.
6) I protect that which matters most.
7) ...just a sample.
8) He's doin' his Superman thing.
9) Touch me and that hand will never touch anything again.
10) You won't let it happen, you can't. You need human beings to survive.
11) A program was written to watch over the trees, and the wind, the sunrise, and sunset. There are programs running all over the place.
12) I have dreamed a dream, but now that dream is gone from me.
13) I've been waiting for you.
14) I hate sleeping. I figured, I've slept the first eleven years of my life away, so now I'm just making up for it.
15) Still using all the muscles except the one that matters?
16) There are levels of survival we are prepared to accept.
17) I have something for him, a gift. You see, he set me free...
18) Mark my words boy, Mark them well, I have survived your predecessors and I will survive you.
19) Morpheus went to the Oracle. After that everything changed.
20) We can never see past the choices we don't understand.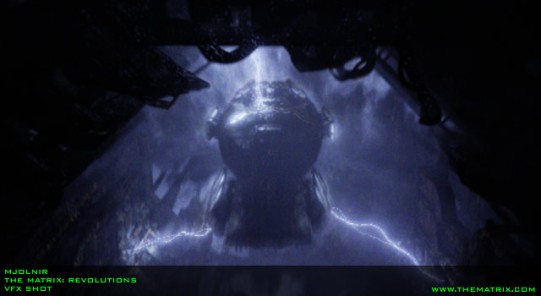 THE MATRIX REVOLUTIONS - Who Said It?
1) She'll do it. If she has to, she'll kill every one of us. She's in love.
2) Down here... I'm God.
3) It is remarkable how similar the pattern of love is to the pattern of insanity.
4) Don't you even begin to tell me what I can and can't do with my ship after your little speech.
5) Karma's a word. Like "love".
6) Ask yourself, if it were Dozer, and you knew the only chance you had to see him again was to hold the dock, what would you do?
7) Ah, Mr. Anderson, I see you are as predictable in this world as you are in the other.
8) The council wants to meet with you immediately. You'll forgive me for not attending, but I need to find a way to salvage this debacle.
9) There are no weapons allowed in this club. At the bottom of this elevator there is a coat check girl and, if we are lucky, a man to check weapons.
10) You played a very dangerous game.
11) Time's up. What's it gonna be, Merv?
12) What do you think I am? Human?
13) If that's true, then I've made a mistake, and you should kill me now.
14) Everything that has a beginning has an end.
15) This is my world.
16) If you tell me we'll make it I'll believe you.
17) Hold onto your lunch!
18) It is done.
19) Like what I've done with the place?
20) Peace.




Answers: THE MATRIX

1) Neo, 2) Morpheus, 3) Cypher, 4) Choi, 5) Tank, 6) Rhineheart, 7) Neo, 8) Oracle, 9) Trinity, 10) Mouse, 11) Morpheus, 12) Neo, 13) Oracle, 14) Cypher, 15) Spoon boy, 16) Neo, 17) Morpheus, 18) Oracle, 19) Agent Smith, 20) Morpheus

Answers: THE MATRIX RELOADED

1) Trinity, 2) Lock, 3) Oracle, 4) Twin #1, 5) Morpheus, 6) Seraph, 7) Persephone, 8) Link, 9) Trinity, 10) Neo, 11) The Oracle, 12) Morpheus, 13) The Keymaker, 14) Cypher, 15) Spoon boy, 16) Neo, 17) Agent Smith, 18) The Merovingian, 19) Trinity, 20) The Oracle

Answers THE MATRIX REVOLUTIONS

1) Persephone, 2) Trainman, 3) Merovingian, 4) Niobe, 5) Rama-Kandra, 6) Zee, 7) Bane, 8) Lock, 9) Seraph, 10) The Architect, 11) Trinity, 12) The Architect, 13) Neo, 14) The Oracle, 15) Agent Smith, 16) Trinity, 17) Niobe, 18) Deus Ex Machina, 19) Agent Smith, 20) Neo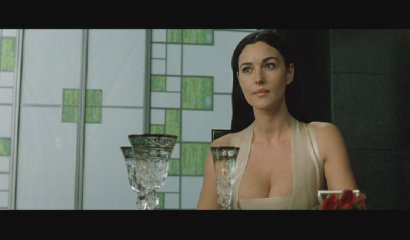 Persephone's Salad Bar Special

Adriatic and black mission figs with ricotta cheese on lettuce, pomegranates and pear vinagrette.
Serve with a buttermilk scone or a sourdough baguette.

BACK Palm Navigation
BACK Trinity - Carrie-Anne Moss fanpage
The Matrix Aura Palette
The Stone Gallery for Your Gems and Metals