Trump VII and Trump VIII
Trump VII - The Chariot

LIBRA, THE SCALES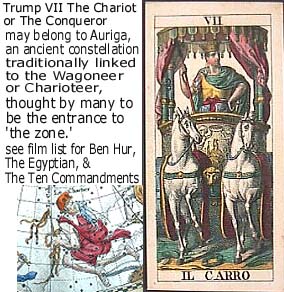 Libra is the Balance, or Scales, the seventh zodiacal sign, symbolic of our relationship with our objective reality. The theme suggests a verb, motion that is asymmetrical [or a ratio not divisible by 2], rather than a noun. The image is designed to suggest a need for balance, a sacred dance, sometimes the search for the beloved. The quest begins with the audience, partner, and work.
When the Sun enters Libra on the Equinox, day and night hours are equal. Libra looks for this 50-50 equilibrium in every facet of life, an example of our mortal struggle to attain the midpoint between opposites or extreme tendencies in life. Libra is associated with Sunset and considered 'social' - when the stars come out and the influence of Venus gathers people together. One primary goal is to break down communication barriers internationally. Natives are excellent negotiators in any job that will require mediation, contact with the press, and the art of winning an audience in support of a cause.
Trump VII recommended films: American Graffiti
Days of Thunder
Drive
American Graffiti * George Lucas 1973
Writers: George Lucas, Gloria Katz, Willard Huyck
Producer: Francis Ford Coppola
Stars: Richard Dreyfuss, Ron Howard, Cindy Williams, Paul LeMat, Candy Clark, Mackenzie Phillips, Harrison Ford, Wolfman Jack, Kathleen Quinlan, Bo Hopkins, Charles Martin Smith, Suzanne Somers.
Running time: 112 min
American Graffiti is the witty and entertaining mosaic of friends "coming of age" after high school graduation in 1962. The central question at one of the most important crossroads of life: Do I stay or do I go? Studies suggest we formulate our foundational, lifetime relationship with our objective reality [especially regarding home and neighborhood environment] at 17 years of age, with little alteration after that initial intersection. Featuring a great soundtrack, the film created several careers and boosted some to stardom.
Days of Thunder * Tony Scott 1990
Writers: Robert Towne (story), Tom Cruise (story)
Stars: Tom Cruise, Nicole Kidman, Robert Duvall, Randy Quaid, and Cary Elwes
Running time: 107 min
Fast paced, classic car flick, one of my favorites from British-born film director and producer Tony Scott. Tom Cruise is compelling as Cole Trickle, a young hot-shot stock car driver with a break through chance into the big show. Days of Thunder captures the power, enthusiasm, and drama of the last days of Summer, just before nature's palette changes and the fruit begins to detatch from the trees. The theme of the film carries with it [as in American Graffiti and Driven] recognition of a seasonal tendency, to lean toward renouncement. This option is treated differently in all three of the recommended films. Original music by Hans Zimmer.

Libra is a 'double sign' because it contains two symbols, the scales that strive for balance. Ancient rulers who had two or more names usually had a seal they were born with and another they acquired when they ascended the throne. right, King Tutankhamon's seal
Akashic Records also contain 'double' or 'multiple' names or words of power that are interpreted in layers, transposed, and/or superimposed on another text. This masking technique known as 'cloaking a text' is utilized by societies that were forced to go underground during the Piscean Era persecutions. An illuminated version of this practice can be found in Dan Brown's book, Angels and Demons, filmed by director Ron Howard.
Scholars, commentators, and bibliophiles will often use this technique in order to glean a deeper meaning of complex passages in the books of the Bible.
Venus and Neptune refer to attraction, 'common cause', and affection-love united with the higher octave of Venus, the planet of spiritualized love, Neptune. Mystic bonding between archetypes generated by Venus, as Trump VII, and Neptune, as Trump XIX, provide us the majority of Piscean Era archetypes associated with soul mates, sometimes known as twin flames. Both planets combined define the 'rules of the road' for the ladder style social structure preferred in a military era.
Keywords for Venus in this regard are expressed as balancing, uniting, and harmonizing. The stable thought forms that work as a "security blanket" are included in this level of magnetic attraction.
Keywords for Neptune in this regard highlight the quest for El Dorado as a transfiguring, mysterious healing energy with the power to neutralize destructive forces.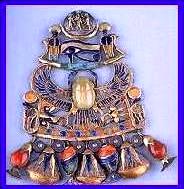 Venus [Social] and Neptune [Utopia] symbolize love given and accepted at two levels in life, usually in the form of physical and spiritual exchanges. The intensity and degree of intimacy will, in large part, determine the length of time the energy exchange remains in the record of the human aura. Some people symbolize this bond by exchanging gifts for protection of the lover, such as rings, amulets, talismans; words of power are often etched or inscribed on metal and gems; prayers may be embroidered or sewn into the hem of a garment, etc. See the film, How To Make An American Quilt. The Saint Christopher medal remains a popular prayer for protection for those on a long or uncertain journey.
Visit The Stone Gallery for more about specific gemstones and metals.

Venus and Neptune together [same sign or degree] in the star charts of two people encourage partnerships that abound in mutual interests of a cultural type: music, drama/film, poetry, art and the garden. Endurability factor of the relationship is high and considered very favorable.
In public life, a defense, "protection," or shield is required. The ancients often used images in metal and gemstones, combined with various symbols to make them invincible in battle, the political arena, and in connection with spiritual confrontations. The heart, or pectoral amulet, was considered essential for a public figure in ancient culture. Elaborate pectoral symbolism took shapes - the symbol of Osiris on a field of gold or a six pointed star in funerary art, for example, and the falcon, or scarab for sitting royalty. Pectorals of gold inlaid with semi-precious stones and faiance were owned by both royal Egyptian men and women.

Japan is a country said to be influenced by this ray, and the Japanese are famous for their ability to combine business with pleasure. Because natives born under this ray love to communicate they are frequently multi-lingual and unusually accomplished orators. Many public speakers, politicians, actors, and attorneys are found in the sign. People with their Sun, Moon, or Ascendant in Libra are able to establish a rapport between themselves and their audience with ease and will wear many hats to please people. Feedback is tremendously important to the Libran because it is a fair way to gauge their effect on the world around them and how well they come across during their presentations. The good news about Libra is the power of mobility, their capability in unfamiliar surroundings, and how they will skillfully conform to strange customs and views with a graceful manner. These natives are frequently involved with international business, global organizations, or those professional aims focused on common points of agreement with the aim of transcendental levels. There is an appreciation of beauty, nature, and art at the refined levels of consciousness.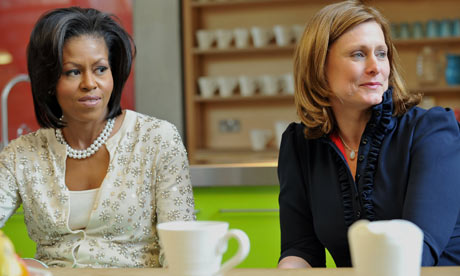 UK hosts G20 leaders the first week of April 09. Downing Menu
rt.,U.S. First Lady Michelle Obama and Sarah Brown visit cancer recovery center
Oscar-winner George Clooney skips Oscar night in favor of meeting with President Barack Obama to discuss the humanitarian crisis in Sudan's Darfur region.
Left, Tom Cruise, an American officer enlisted as an advisor, sent to Japan during the country's early Westward glance in, 'The Last Samurai.' An excellent view of the transitional moment based on a true story; Cruise takes on the ancient Samurai with a Trump VII viewpoint. FYI: The Trump I approach is portrayed by Kurasawa/Mifune in, 'Yojimbo.' The Trump IV samurai classic is clearly 'Chichingura.' Trump X is illuminated in Kurasawa's epic masterpiece, 'Ran.' The mini-series, 'Shogun' serves as early background for the Cruise Trump VII: Richard Chamberlain portrays an English navigator caught up in the complex political games in feudal Japan.
Art, music and poetry are often mastered, but there is almost always an interest in theatre and dance. Librans can spot a great artist very quickly because they are capable of recognizing truth. They are fair in their business practices and their judgments. The bad news is indecisiveness that slows up progress. They wait too long to make final decisions, long after the facts are made available to them. They have the ability to dwell for long hours on trivia, as well, preferring a light and breezy style to conversation. If taken to extremes, it is difficult for any one else to get a word in edgewise.
IN THE HOUSE SYSTEM, Libra and Trump VII give us the energy we need to perform well in The Drawing Room [and Gym]. The room provides us with an array of tools so we can deal with form, colour, and structuring energy (on all levels of consciousness.) The room itself symbolizes technical knowledge integrated with inspired dedication that is usually devoted to improvement of the human condition.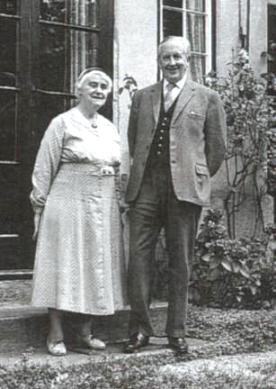 right, The Tolkiens portray Trump VII partnership
in the golden years as Trump XIX, The Sun

Mystic bonding between Venus as Trump VII and Neptune as Trump XIX provide us the majority of Piscean Era archetypes and 'rules of the road' for the ladder style social structure preferred in a military system. There is an enormous energy acquired from this bond; chemistry is often instant and there will be long lasting rapport.

Partners with this type of attraction feel they know each other immediately upon introduction. This multi-layer component leads to ideas that may spark twin flame recognition.
Power tools include essential mundane materials needed to practice calligraphy, illumination, and multi-lingual transcription [Akasha Records] noted for flexibility and fine line precision. Inks may come in liquid form or a solid, paints may be prepared from elements in the earth and mixed with a variety of liquids like oil and water. Writing surfaces should be of the ideal quality and surfaced for a drawing board set at an angle. [Innovators like Jackson Pollock are mentioned under a different heading.
See Beat - The Beat Goes On and The Lord of the Rings]
Symbols and systems such as lines, numbers, charts, alpha sign and map, give us studies that assist with an information exchange for implemented intellectual archetypes. Visual arrangement, ratio, point of interest all appear in work connected to blueprints and legal forms, art masterpieces, dream structures - all navigated by a conscious mind or utilizing symbols that spring from altered consciousness. By association, we also think of the social traditions in the Drawing Room, where people gather in the evening hours. Robert Altman's mystery thriller, Gosford Park, and Alfred Hitchcock's suspense-filled, The Paradine Case, provide fantastic scenes with this timing and tone.
Libra is the air sign ruled by Venus. The best colours for social interaction are sky-blue and white, yellow, emerald green, nephrite green, and jade green. Recommended colour combinations [Suzanne Caygill], if you want people to give you their complete attention, include Turquoise and Jade, Oxidized Gold and Crimson, and Leaf Green and Red Pepper. When you don't want to be in the spotlight and prefer to keep your opinion to yourself, go with the neutral wardrobe selection in your closet.
The most appealing materials are silken, especially in evening wear ~ or satin and chiffon [see 'Special Types] Within and Outside the Shire. Librans are most comfortable wearing loose or flowing garments that catch the wind, or the kimono style garment that lends an air of dignity to movement. Librans are graceful and subtle - many well known dance and ballet stars are born under this constellation. Choose colours of refinement as a general rule, even when at play. The stones are often emerald, jade and lapis lazuli. Amber is wonderful with copper. All of these colours work well when extended into the wardrobe and the environment where the Libran socializes. See zodiacal stones for more information about matching jewelry to your zodiacal sign.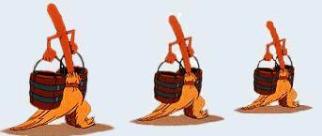 FANTASIA, Uncle Walt ahead of his time; The Sorcerer's Apprentice has many 'little helpers.' "The name "Fantasia" does actually have a meaning. It means two things, a composition in which the composer strays from the accepted form, and a potpourri of familiar arts, both apply to the film."
My play was a complete success. The audience was a failure. -Ashleigh Brilliant
In business matters, Libra, like Virgo prefers the warmer side of the spectrum, both in lighting and choice of wardrobe. Many natives of this sign are frustrated actors and actresses and tend to play out a part in professional life before the public they address. Career attire tends to be "ritualistic" in some appropriate style. They may go with "tailored to the part" dress, almost like a uniform or costume to reiterate the role played in the business world. When they do wear three piece wool suits, the shirt or blouse is usually an intense colour - a hot red, electric blue, violet, or perhaps lemon yellow. Libra is comfortable under very hot lights... due to the efficient dispersion of background track, tape, and "mind chatter" that builds around so many chattering "day job" people. The intensity of red brings about better concentration, clarity of thought in planning and organizing, and generally stimulates creativity set for a Libra frequency. When restoring rapport with a colleague after eliciting behavior that has its roots in a past exchange, go with the neutral selection and add a pastel accent colour associated with trust, like blue, aqua, or leaf green.
An example of Libra at work
The following paragraph is a resourceful portrait of Libra, and perhaps a better comment on the zodiacal sign and the PR craft it perfects, than already written volumes of evaluation about Trump VII and the sign Libra. (Trump VII and Trump 0 are the two most widely reviewed Tarot Cards in the deck of 78). You could also research Manly P. Hall's lectures about Pythagoras, or you can always pop in the "CHICAGO" CD.
Paul Simon interview in Q Magazine
by Giles Smith November 1993
At work in New York, Paul Simon does his business from the Brill Building on Broadway - as befits, perhaps, one of the American songwriting greats. This used to be after all, the centre of New York's songpedding activity, though these days its lavish spaces are given over predominantly to film editing suites and production companies. In fact, on this particular morning, on the way up to Mr Simon's offices, one is forced to jostle for space in the lift with Robert De Niro, who is heading in a preoccupied manner for the second floor, carrying a briefcase and wearing half-moon specs, and the kind of leather jacket he wore in Midnight Run. ( The staff in Simon's office are singularly unimpressed by this anecdote, largely because, as they dryly counter, barely a day goes by but they don't find themselves riding the elevators with Al Pacino.)
Paul Simon himself enters the Brill Building a little later, in a loose-fitting cotton jacket, a T-shirt and a pair of jeans. He can be a rather forbidding presence and is given to smiling, it would seem, chiefly on birthdays and at Christmas.... he's carrying a family-sized mug of coffee and gesturing the way into his office which is, needless to say, nicer than most people's homes. The windows gaze directly on to garish Time Square, but within, large table lamps give off a gentle golden glow of rich coloured kilims deck the floors and chairs. Among the less ethnic details are a basketball hoop and a baseball mitt and Simon will spend a large part of the interview that follows tossing a baseball from hand to hand and twirling a basketball on his fingertips - though not at the same time. And on the coffee table sits a framed 10-inch copy of Hey Schoolgirl, a record Simon made with his friend Art Garfunkel, under the names Tom And Jerry. "One of the last 78s," says Simon, a little ruefully, about the song that started the whole thing off ...


Famous Women with Sun in Libra
Karen Allen, Ammachi, Annie Besant, Monica Bellucci, Marion Cotillard, Fran Drescher, Eleanor of Aquitaine, Carrie Fisher, Margot Kidder, Angela Lansbury, Natalie Maines, Linda McCartney, Aimee Semple McPherson, Martina Navratilova, Emily Procter, Susan Sarandon, Alicia Silverstone, Naomi Watts, Sigourney Weaver, Serena Williams, Kate Winslet, and Catherine Zeta-Jones

Famous Men with Sun in Libra
Michelangelo Antonioni, Chuck Berry, Deepak Chopra, John Coltrane, Peter Coyote, Aleister Crowley, Matt Damon, Michael Douglas, Saint Francis of Assisi, Mahatma Gandhi, Jeff Goldblum, Ioan Gruffudd, Mark Hamill, Richard Harris, Charlton Heston, Hugh Jackman, Wyclef Jean, Timothy Leary, John Lennon, Franz Liszt, Bernie Mac, Roger Moore, Viggo Mortensen, Clive Owen, Kip Pardue, Luciano Pavarotti, Christopher Reeve, Tim Robbins, Paul Simon, Will Smith, Bruce Springsteen, Sting, Gore Vidal, and Elie Wiesel

General George Washington - Seventh House of War and Peace
George Washington was born with Mars 23° Scorpio 14', in his Seventh House, just above the Descendant. His prominent Mars aspects are beneficial, though slightly wide [Venus trine Mars orb +6°10' and Moon sextile Mars orb -6°21']. Barack Obama's Midheaven is conjunct Washington's Descendant and Abraham Lincoln's Ascendant 26° Scorpio 19'. See more @ The Capitol.

IRIS AND THE RAINBOW, MESSENGER OF HERA

The Rainbow [7 colours of the spectrum] is the visual power of diffused light.
see The Need for Beauty last lecture of Rudolph Schaeffer

"First he [Zeus] sent golden-winged Iris to call rich-haired Demeter, lovely in form. So he commanded. And she obeyed the dark-clouded son of Kronos, and sped with swift feet across the space between. She came to Eleusis, and there finding dark-cloaked Demeter in her temple spake to her and uttered winged words: 'Demeter, father Zeus, whose wisdom is everlasting, calls you to come join the tribes of the eternal gods: come therefore, and let not the message I bring from Zeus pass unobeyed.' Thus said Iris imploring her."
-Homeric Hymn to Demeter 315-324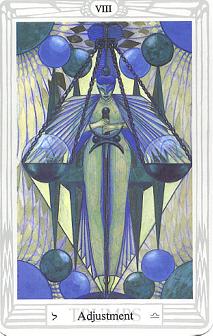 Trump VIII - Adjustment or Justice

SCORPIO, The SCORPION, COBRA, and EAGLE/PHOENIX
The eighth zodiacal sign, Scorpio, is the fixed water sign associated with trials leading through initiation often thought of as a cycle of birth-death-rebirth. This ray is intensely charged because, when developed in a positive vein, Scorpio achieves the highest spiritual adeptship of which we are capable. When the mystery of Scorpio is understood, there could be direct communication with oversoul, either in a dream state, a deep meditation, or altered state of consciousness. The films 'Knowing' [Nicolas Cage], 'The Day The Earth Stood Still,' and 'The Matrix Revolutions' are examples of direct interaction with oversoul in the manner described in Trump VIII.
The symbol is the eagle/phoenix, dove and sometimes vulture or hawk. Within this same ray the power for the greatest destructive work can also be found in the symbol of the scorpion. This is the only creature in creation capable of stinging itself to death with its own poison. At the midpoint of these two extremes we find the cobra symbol - an aptitude for work with vital life forces at the intellectual levels. An example is hypnosis. Scorpio is the great researcher of the zodiac. The focus is on "lifting the veil" and establishing the formula for the Sacred Fire.
Ruler of the Initiate Trump: Pluto, Dis Pater as "the rich one" is keeper of the hiding cape, or the cloak of invisibility and all wealth beneath the surface of the earth. He represents the Higher Power or Providence, invisible forces or powers. In dreams he is often 'the dancer' [ref to Lord Shiva, dances through heaven and hell, creating and destroying in one motion] and represents the unconscious.
The psychological correspondence is the will or wish to exercise power, the revelation of unconscious forces, ruthless frankness or candidness, the urge to influence the masses, propagandist, aspirations and objectives, sensitive and psychic understanding of the masses.

Cleopatra's High Priestess shows how the Senate betrayed Caesar
The planet Pluto is the higher octave of the Moon and refers us to Pentecost, the Phoenix, and the biological correspondences of regeneration and the collective consciousness. The negative factor is associated with the negative Moon in the extreme: coercion, betrayal and abandonment, in the worst forms - seen in the films Cleopatra, Good Night and Good Luck, Michael Clayton, Munich, Pelican Brief, Power, Spy Game, to name a few good sources of information about this trump.

Any profession specifying cleansing, purging or purification will appeal to this native, along with work that is associated with the "tunnel" to other dimensional reality. Great sportsmen, daredevils, stunt men and women are frequently born under this sign because they have no fear of death.
Professions geared to protect and heal humanity found herein include the following: CSI, NCIS, firemen, paramedics, specialists in medicine, experimental treatment, and medical research. Natives strive to accept loss and the "little death" so that when the eventual loss of the material garment occurs they are prepared and leave an identity, having purged the karma they came to take off the slate.
Frequently, we experience an "after-life" awareness [perhaps Carlos Castenada style] or leave the physical shell for short intervals; there are circumstances when we encounter the pull of another entity into our life [Poltergeist series]; there are those likely to experience a transformation in consciousness because the bent of their nature leads them to the other-worldly door.
The good news about Scorpio is the power to transform, reform, evolve, and renovate. Natives can update antiquated laws and systems efficiently. The sign of deeper understanding - of the mysteries and other treasures of life, speaks for the pedestrian and adapt. It is natural to tend to the wants and needs of other people - the energy we expect to emerge when a collective goes about the business that will actualize the Sermon On The Mount.
Scorpio can learn to elevate the mind above anything. When the decision has been made to transmute jealousy or other baser feelings and enjoy a higher form of love, obstructions that block the path to success will disappear. The bad news about Scorpio is an unfortunate tendency to tear down something that is corroded but neglect to establish something functional to replace it. It is said Scorpio rules the Atomic Age - the idea of lifting the veil of the collective consciousness. Keep in mind how many thousand years the planet ruler of Scorpio, Pluto, remained 'invisible', and then 'overnight' several discoveries of the orbit were recorded simultaneously [within a decade]. There is a subtle message to the human race, it would seem, if people want to read it written in the stars.
Science does not have a moral dimension. It is like a knife. If you give it to a surgeon or a murderer, each will use it differently. -Werner von Braun
IN THE HOUSE SYSTEM, the energy of Scorpio represents itself as a transitional point, tunnel or Hallway. This passage connects us to all orderly past routines of lawful experience, activities and considerations and brings us into very intimate contact with future events that will be based on past and present motives and cycles of activity. A study of metaphysics, astrology, Tarot, and Kabbalah are often checked here, since the "suspension" of gravity, the laws of physics, and our global time zones seem to be felt within this Hallway.
Sacred space where miracles, paranormal activity, or other phenomena are reported, are often simply places on the surface of the Earth where the laws of physics do not apply. There are so many of these sites it is a wonder we still hear from skeptics who dismiss all such energy zones as part of a massive hypnotic "hoax."
Then again, the cinema provides wonderful examples of places we would love to visit if we could find The Marauder's Map to Harry Potter's stomping grounds. The interior of Hogwarts School of Witchcraft and Wizardry works on the same frequency as Scorpio, with moving stairs, speaking pictures, and rooms that respond to the needs of the seeker [Room of Requirement]. Powers that seek to unveil the mysteries of creation are found somewhere within this realm.
Nature friendly: The Lotus, Water Hyacinth, and other wetland plants like Pondweeds, thrive partly above and partly beneath the surface of the water. These watery habitats, and their residents, show us various adaptations to a complex environment, without any struggle, as do the self-contained backyard pond that is easy to construct over a long week-end.
The high tech wonder lab, featured in CSI: Miami, is constructed according to Scorpio-savvy blueprints, with Scorpio-friendly raw materials, and lit with Scorpio style gels. Essentially, Scorpio environments could be summed up as a variation on, 'Herne's Cave' meets 'The Bat Cave' or The [Shadow's] Inner Sanctum meets Willy Wonka and the Chocolate Factory. [Trump VIII acts in direct, grounding anchors in the Great Pyramid at Giza and the Library interior.]
If you want to be loved, be lovable. -Ovid
Scorpio is the watery sign of transformation ruled by the planet Pluto. The colours associated with this ray are rich black and gold combinations, even when the seasonal type edges to the Gypsy or cusp of an Exotic Winter. An unusual exception is found in the wardrobe for Katharine Hepburn, as Countess Aurelia in, The Madwoman of Chaillot, consistent with the akasha theme, though the designer has less than a heavy hand. The energy and storyline moves upward so the palette matches the transparent texture of the film. Accents lean toward a layered look more than pure and solid colours, gems or metals. Hepburn comes close to the personification of Trump VIII Maat, opposite her natural partner, Danny Kaye, the Ragman. Although Scorpio natives are secretive and receptive, they have a very active social life, especially fond of associating with "night peole." The best colours for them socially are black and gold, green and purple, and iridescent colours. Favorite materials are velvet, crepe, linen, and textured materials (as from hand woven material and yarns.) These natives feel comfortable wearing long dresses and capes, formal attire, and antique clothing and jewelry.
Business attire tends to be an understatement of Scorpio power so that there is a feeling and sensation that "still waters run deep." Natives will wear slightly unconventional clothes, in style but not quite in step with the fashion modes of the status quo. Any day job garment is likely to camouflage rather than highlight the Scorpio native. Seldom in black unless the career demands it for professional attire and persona, Scorpio prefers to "blend in" at the office. They try solid colours, usually in the middle of the spectrum range. Green, and blue-greens, jade greens, are easy to wear. Maroon or rose with cream or ivory work with the psyche. Black and white combinations are fine during work hours when leather is in. It is likely the costume consultant for The Matrix trilogy is a triple Scorpio.
Stones are the fire opal (which should not be worn on their person but kept on a desk, and in the work area in general), jet, snakestone, sardonyx and black diamond (attributed to the element of spirit, perhaps because it resembles the pupil of the eye. High definition folk may expand the selected gems to include smoky topaz, lemon diamonds, and gold medallions. These natives should never wear flat black alone because it conveys a suggestion of darkness, ominous or depressing associations and a negation of spirit. It says the native wishes to bring about a change but is unable to do so. See Gemstones gallery for more information about metal and stones of power.
Famous Women with Sun in Scorpio
Roseanne Barr [Sun 11° Scorpio 22' - Midheaven 28° Scorpio 38'], Sarah Bernhardt, Lisa Bonet, Kate Capshaw, Maria Curie [Sun 14° Scorpio 25' - Ascendant 22° Scorpio 49'], Jamie Lee Curtis, Dorothy Dandridge, Alison Doody [Sun 18° Scorpio 39' - Moon 3° Scorpio 44'], Linda Evans [Sun 25° Scorpio 29' - Ascendant 17° Scorpio 18'], Calista Flockhart, Jodie Foster, Whoopi Goldberg [Sun 20° Scorpio 34' – Moon 12° Scorpio 06'], Maggie Gyllenhaal, Anne Hathaway, Goldie Hawn, Marg Helgenberger, Kate Jackson, Famke Janssen, Diana Krall, Sophie Marceau, Joni Mitchell, Demi Moore, Brittany Murphy [Sun 18° Scorpio 12' – Moon 10° Scorpio], Georgia O'Keeffe, Julia Roberts, Meg Ryan [Sun 27° Scorpio 05' - Midheaven 11° Scorpio 36'], Winona Ryder, Jean Shrimpton [Sun 13° Scorpio 15' - Ascendant 16° Scorpio 39'], Maria Shriver, Grace Slick [Jefferson Airplane-Starship, Sun 6° Scorpio 14' – Ascendant 20° Scorpio 10'], Jaclyn Smith, and Joan Sutherland
Famous Men with Sun in Scorpio
Bryan Adams, Boris Becker, Charles Bronson, Richard Burton, Cheiro, John Cleese, Michael Crichton, Leonardo DiCaprio, Sean [P. Diddy] Combs, Alain Delon, Richard Dreyfuss, Lou Ferrigno, Bill Gates, Terry Gilliam, Kirk Hammett [Metallica], Ethan Hawke, Burt Lancaster, Michael Landon [Sun 8° Scorpio 06', Midheaven 16° Scorpio 29'], Claude Monet, Joaquin Phoenix, Matthew McConaughey, Larry Mullen, Jr [U2], Auguste Rodin [Sun 20° Scorpio 13' - Midheaven 24° Scorpio 09'], Mark Ruffalo, RuPaul [Sun 25° Scorpio 46' - Moon 14° Scorpio 05'], Carl Sagan, Sai Baba [Sun 29° Scorpio 57', Ascendant 21° Scorpio 37'], Martin Scorsese, Robert Louis Stevenson, Ted Turner, Keith Urban, Johannes Vermeer, Voltaire, Claus Philipp Maria Schenk Graf von Stauffenberg, Bill Wyman [Rolling Stones], and Neil Young
Phoenix navigation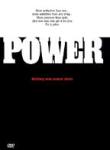 Recommend
A Good Year
Inside Man
Michael Clayton
Munich
Pelican Brief
Spy Game
Syriana
MUSIC - Reunions: Cream - Mighty Zeppelin
"THEY'RE HERE!"

We at The Divining Nation are truly open to your feedback, opinions, and suggestions. Please email us and include any thoughts you may have for us to improve our website. Also, we are always open to contributions and potential links with like minded individuals and organizations. Although we cannot promise to publish articles from other parties, we are always willing to review and consider your views.



Top | Abramelin | Alchemy | Ancient Oracle | Articles | Artists ~ Rock & Roll | Astrology | Astroscape | Aura | Babylon 5 | Beat | beatles | Bus | Candles | Colour Waves | Constantine | Deva | Divination | Dowser | Early Heraldry | email | FAQ | Gladiator-Champion-Fighter | Haight-Ashbury | Heartwarmer * Bread & Roses | Hip | Hobbit Dowser - Nyll Greenwood | Hogwarts | House System * Sacred Tarot | Internal Spectrum | Lab | Mandala | Mask-Who Was That Masked Man? | Masked World | Matrix | Meditation Index | Middle-earth Inn | Mirror | Mountain | Mystique | Neutrals | Number 1-9 | 11-22-33 | Palm | Parapsychology | Phoenix | Pix | Quiz | Sacred Place | Shrine | Site | Sixth Sense | Son of Spooky | Space | Star Chart (by Zodiac) Listing | Star Trek | Star Wars | Still Zone | Stonehenge | Tao | Transcription breaks | Transform | Tutoring | Twitter | Unicorn | Unknown Museum | Unnumbered Tarot | Us | US Time | Valentine | Vote Star Charts | Wall | Wands | Whale | Wizard | Your Elf | Zone




Thank you for visiting ~ http://thediviningnation.tripod.com/VII.html
~ Please bookmark us and come back again!

This Dowser Page is maintained by webmistress Glιwen Greycloak

last updated August 24, 2012